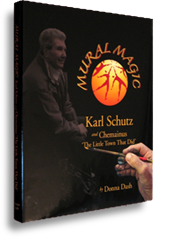 Mural Magic by Donna Dash - A Review
I suppose since the moment I first heard of the book being written on Karl Schutz, I knew it would be special. It had to be, as it was written about a visionary, a real life- there to share- visionary. How special to me personally as my pride and personal growth was righted by this man, who in my youth asked me to help touch the change for the Chemainus community and to put pride in putting my hands toward making it a better place to raise families, share spirit, and believe in Dreams coming true.
The Book Mural Magic is inspiring on paper and between the lines and pictures. It is bound together with such a fabric of a man who dares not only to dream big but to bring others along on the journey. I was moved by his process and determination to share and his choosing of the stories he commits so carefully from his memory. His path may not be the path we have each followed to reach our goals but his tools for modeling your life are so evident and thoughtfully brought to surface page after page after page.
I feel like Karl working with the author and his generous of spirit partner, Betty have given generations of Chemainus people a roadmap for future success. I have used this book to mend my spirit and I will forever be reading this guidebook to a life well lived and continue more steadfast thankfully on the path I will climb.
Thank you Donna for creating Mural Magic, I am a small but honored thread in the weaving of your tales.
Yours truly, Michael Pickard