About Dr. Karl Schutz
"A visionary and achiever" is how Dr. Karl Schutz, this ambitious and futuristic man, has been described. Born in Heidelberg Germany, and trained as a tool and die maker, he immigrated to Canada in 1951 where he arrived penniless in Vancouver.
After a challenging start working on the railroad and in a sawmill, Karl and his wife Betty - whom he married in 1956 - developed a highly successful industrial park in Chemainus where they built a custom furniture manufacturing plant as well as several other smaller businesses. They both retired in 1970.
Dr. Schutz is best known as the originator and architect of the Chemainus Mural Project – a series of historic murals that turned a once declining sawmill town into an international tourist destination with a $25.6 million dollar annual economy. Dr. Schutz's branding and economic development strategy, through Arts & Tourism, has been adopted by over 100 communities in Canada, the United States, Australia, New Zealand and, most recently, Scotland.
In 1988, Dr. Schutz' contributions were recognized by the British Columbia Ministry of Tourism, Recreation and Culture, which appointed Karl as Ambassador of Tourism for the province of British Columbia. In addition to this great honor, Karl has also received the Award of Excellence from the Federation of Canadian Artists, was named one of 50 Canadian Men of Influence in 1997, and has been featured by Petro Canada as a "Canadian Achiever". In 1992 he was awarded a Commemorative Medal authorized by Her Majesty Queen Elizabeth, to honor Canadians who have made a special contribution to their community and their country. On February 8th, 1995, in London, England, Karl accepted the prestigious "British Airways Tourism for Tomorrow Award" for the Americas, on behalf of Chemainus.
Dr. Schutz' honours also include appointment as an Associated Professor of Arts & Tourism by Revans University, in Boulder, Colorado, USA, and Doctor of Law honoris causa in Helsinki, Finland, on September 20th, 2003.
In February 1997 Karl proposed the idea of Chemainus adopting the most Famous Female Artist Emily Carr as their patron and create an outdoor art gallery of her life's work. But it was not until 2008 - with a new CFOM management team - that the vision was realized. Emily Carr's Beloved Trees, a spectacular Trompe L'oeil mural was completed by Steffen Jünemann in 2009.
In 2009 Karl assembled a new team of Chemainus visionaries and registered the "Chemainus Monetary Foundation" to print their own money. The "Chemainus Dollar" was born in 2010, with the portrait of Emily Carr on the front and selected historic murals on the back.
Karl's latest dream is awe-inspiring! The setting and the concept is global in scope. He has now turned his considerable talents to the challenge of making his vision a reality throughout the world by establishing partnerships and by branding cities using their history and art to connect them.
In this quest, he has published a book, "Mural Magic", and regularly speaks, lectures, and coaches internationally on topics including the branding of cities, and economic development through arts and tourism.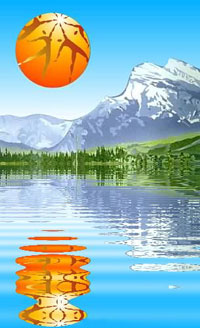 Our Logo
Celebrating harmony, the design is composed of people of different cultures, with arms raised, dancing together around the world.
The design is inspired by Egyptian friezes and hieroglyphics, Mayan wall paintings, Inuit and Haida carvings and patterns from Greek vases and festive East Indian statues - in short, the cultures of the world.
Cast in radiant gold and reach burgundy, the logo - by designer Ken Campbell - expresses the ideology of founder Karl Schutz. It is being recognized as a new symbol for "Arts & Tourism" the world over!
Original landscape by Paul Marcano