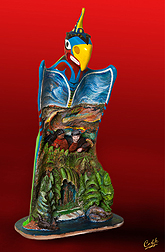 The Emily Carr (Klee Wyck) Monument Project

An Invitation from Dr. Karl Schutz...
My Dear Friends!
After several years of searching, imagining, planning and dreaming, we are now almost ready to turn our vision of building a monument to Emily Carr into Action. With your help, this dream will become a reality.
However, building a monument to one of the greatest female artists will take - in addition to tenacity, skill and determination - Funding.
In a world of dreams, and mystic imagination, I see Emily Carr as "THE MOTHER" of all creative artists; she suffered hardship, insults, rejection, and ridicule, but above all Emily triumphed in the end. Read more... >>