Meet Dr. Karl Schutz: motivator, inspiration and facilitator. Leading the movement to revitalize the heart and soul of communities worldwide. The man behind the tranformative Chemainus Mural Project.
Karl is known world-wide for his contributions to Economic Development through Arts & Tourism and his role in the Global Mural Conference.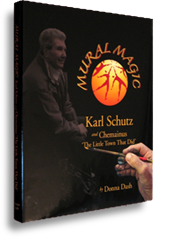 Read all about Karl's exciting trip to Africa

Read his book, Mural Magic, for an inspiring story of "The Little Town That DId", Chemainus, B.C. and how that success transformed the town.
Find out more about the Emily Carr Monument Project plus how you can lend your support, make a donation and carve out a piece of history for yourself!

Dr. Karl Schutz's credo: "We must not be afraid of dreaming the seemingly impossible if we want the seemingly impossible to become reality" - Vaclav Havel